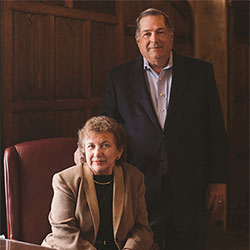 Profession
After graduating from Fairfield with a degree in English, Tom Franko '69, a Bridgeport, Conn., native, built the foundation of his law career by becoming an English teacher at an upstate New York school where he also coached wrestling, directed the junior play and was president of the local teachers' union.
After five years in education, Franko headed to Fordham University School of Law. He then spent more than 30 years as an attorney working for a number of stock brokerage firms, retiring from Pershing LLC in 2006, holding the titles of managing director and general counsel.
"I enjoyed many aspects of my work," Franko said, "There was the constant challenge to adapt to a changing business and regulatory environment. I liked to help develop the talents of the people who worked for me and with me."
A leader in his profession and community, Franko is a member of the Knights of Columbus and served the University as a trustee for 12 years.
Fairfield's Influence
"Fairfield was by far the most important influence in my life in many ways. I learned the value of clear, logical and ethical thinking. I found that skills in communication are vital to everything one does professionally. I learned to appreciate music and the arts, adding immensely to my life."
Why Give to Fairfield?
"Giving to Fairfield is important in two ways. First, it is a 'thank you' for the experience and the basis for the success that I have had in my life. Second, my wife Beth and I, both former teachers, believe that a strong educational foundation is crucial to the individual and society. Being able to give to first-generation students who might otherwise not be able to obtain this advantage is of primary importance to us."
Most Recent Gift to Fairfield
Tom and Bethany have made Fairfield the beneficiary of the entire residue of their estate.  This significant bequest will establish the Bethany and Thomas '69 Franko Endowed Scholarship Fund for students who attended schools in Southwestern Conn., with a preference for the city of Bridgeport, or Bethany's hometown, Lewis County, N.Y.
Also Supports
Academy of the Holy Angels
Holy Trinity Church in Georgetown
Kennedy Center
Little Sisters of the Poor