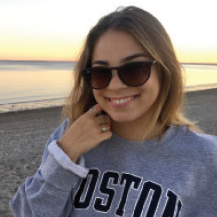 Alyssa Pilkington '19 has been on the Dean's list every semester since she enrolled at Fairfield. Originally from Burlington, Connecticut, she is pursuing a philosophy major with a minor in health studies. In addition to her classes, Alyssa works two jobs and is involved in a myriad of activities around campus.
Alyssa credits Fairfield for inspiring her to become the very best version of herself, saying "the Jesuit value of magis has really resonated with me over the last three years, reminding me to do more for my community and for myself as a student, resident assistant, daughter, friend and in all of the other roles I hold. The experiences I have shared on this campus, which have ranged from academic to spiritual to leadership and everything in between, have allowed me to grow in ways I never thought possible."
Alyssa is extremely grateful to have been chosen as this year's recipient of the Helen T. Farrell Scholarship. This scholarship was created in 1983, from the estate of Westport, Connecticut resident Helen T. Farrell, to provide financial aid to undergraduate students. Because of her scholarship award, Alyssa can continue her studies at Fairfield and make the most of her time on campus.
Thoroughly enjoying her Fairfield experience, Alyssa finds it almost impossible to choose a favorite class. One of her favorites was a class called, "Finding God in All Things," taught by Fr. Gerald Blaszczak, S.J. The class was a ten-week spiritual immersion that enabled Alyssa to come away from the program much more aware of and at peace with her faith. Another notable course for Alyssa was entitled "Ethics of the Environment" with Dr. Toby Svoboda. The class gave her a better understanding of our climate crisis and even inspired her to become a vegetarian.
In addition to her coursework, Alyssa is a part-time employee at the University's DiMenna–Nyselius Library. She also works as a resident assistant, which she says gives her, "the opportunity to be a leader and a resource for other residents on this campus, something that makes my time here at Fairfield very rewarding."
After graduating, Alyssa plans to attend graduate school in hopes of becoming a physician's assistant. Before she begins those studies, she will work as a phlebotomist.