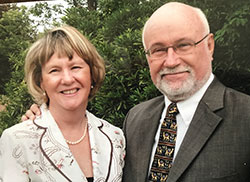 "Growing up in a single parent home in the 1950s and 60s carried much more of a stigma than it does today," says Michael Holbrook  '70, MA '75. "Not receiving any financial support from my father made it extremely difficult for my mother to be able to pay the bills — much less save for my college education, but she did."
However, without the significant scholarships that Michael received from Fairfield, he would not have been able to attend the University. And, he may never have met his wife Linda.
"We literally met at Lantern Point on Fairfield Beach in September 1969 and have been together ever since," Michael says. The couple was married at Fairfield's Egan Chapel of St. Ignatius Loyola when it was in the basement of Loyola Hall. They are now retired and live near a similarly named beach in Fairhaven, Massachusetts.
The education that Michael received, from his bachelors in political science and his masters in corporate and political communication, gave him the ability to think critically and ask questions. He has found these skills extremely helpful in his career and personal life.
"The education and experiences that I received from my undergraduate and graduate programs really taught me how to think critically and how to develop a process to solve most of the problems of work and life. I was also fortunate enough to make several life-long friendships while at Fairfield," says Michael.
"Over the years, I managed a couple of businesses, owned my own business, worked as a small business consultant for a grant-funded program based at Clark University and taught MBA courses for both Clark University and Anna Maria College. Along the way, I also received an MBA degree and more recently I learned how to develop and teach on-line MBA courses."
A lifelong passion for education, inspired by Fairfield, had Michael in search of a way to give back.
"I had always wanted to make a donation to scholarship funds at Fairfield, but I had assumed it would be after my death," Michael says.
However, three years ago he and Linda were discussing potential investment strategies and researched the Charitable Gift Annuity program at Fairfield. Michael found that they could make a $10,000 donation, receive an immediate income tax deduction and receive a partially tax-free annuity payment at an attractive rate.
"For us it was an easy decision," Michael says. "We could make a larger donation now because of the tax benefits and future income stream. Why not give now and receive some financial benefit, rather than waiting until the very end of life?"
In their retirement, Michael and Linda enjoy days at the beach, traveling and spending time with their two children and their families. Michael still serves as a consultant to several small businesses and continues to teach MBA courses.