"At Fairfield University I was taught a value system that has served me well. I learned to recognize the difference between a profession and a business. As a professional, my priority is always to serve my patients' needs, with profit being secondary. Following this philosophy has been tremendously rewarding in every way. I am very grateful to Fairfield for the quality education I received, and am happy to express my thanks in the form of a bequest."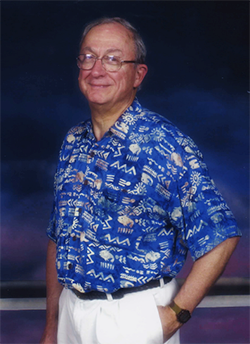 Profession
Roland J. Zwiebel '65 grew up in Waterbury, Conn., where he had a wonderful dentist who, he says, "took the time to explain what he was doing," and was the inspiration for Dr. Zwiebel's future career. Being from a family of engineers, he was mechanically inclined. With his interest in both biology and chemistry, dentistry seemed a fulfilling field of work.
After getting an "excellent pre-med education" at Fairfield and graduating with a bachelor's degree in biology in 1965, Dr. Zwiebel went on to dental school at the University of Maryland and earned his D.D.S. degree there in 1969. He served in a general practice residency program at Waterbury Hospital, and now has a private practice in Milford, Conn., where he has practiced dentistry for almost 40 years.
Dr. Zwiebel served as chairman of the Milford Chapter of the American Red Cross for three years, has been a member for 20, and is a member of the Milford Fine Arts Council Board of Trustees. He also takes pleasure in tinkering with old cars, especially his 1933 modified Chevy Street Rod. He enjoys cruises and traveling to the Southwest and Europe. After 26 years of marriage, Dr. Zwiebel was widowed in 1993. He remarried in 1997 to Jeanne, gaining an instant family, including two stepdaughters and a stepson. His large extended family now includes two "handsome and intelligent" teenage grandsons and a "precious three-year-old granddaughter."
Most Influential Fairfield Faculty
"English Professor Arthur Riel in English taught me how to organize my thoughts and take good notes — invaluable skills in life! Dr. John Klimas, Dr. Donald Ross and Father [Gerald F.] Hutchinson piqued my interest in science."
First Gift to Fairfield
$50 in 1984
Largest Gift to Fairfield
Bequest intention of 10 percent of the residue of his estate to Fairfield University for unrestricted operating support
Also Supports
American Red Cross
Milford Fine Arts Council
Habitat for Humanity
Asylum Hill Congregational Church in Hartford, Conn.
"and other organizations, in gratitude for what we have been given..."