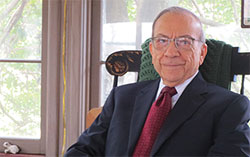 Professional Life
After graduating from Fairfield with a degree in biology from the College of Arts and Sciences, Dr. Salvatore 'Sal' Santella '53, began his journey into the world of medicine. He was one of the first Fairfield students to be accepted into medical school and was encouraged by his Jesuit mentors to attend the Creighton University School of Medicine in Nebraska. After finishing medical school in 1957, he was an intern at St. Vincent's Hospital, and soon after started his own family practice in Connecticut that he would run for decades. Dr. Sal, as he is affectionately known by his patients, joined the National Guard in 1958 with the rank of major as a battalion surgeon. Next, he pioneered the first infirmary on Fairfield's campus and served as director of Medical Services.  He also played other important roles in the medical community by serving as a member of the board of the directors of the Connecticut Academy of Family Practice and as chairman of the Infectious Disease Committee at St. Vincent's Hospital.
Dr. Sal has been retired for some time now but continues to stay active and give back to the community.  "That's something I learned from the Jesuits for sure. There was a code of ethics and involvement that we were all expected to carry-on."
Most Influential Fairfield Faculty
"All of the Jesuits lived in Bellarmine Hall at the time and were prominent influences in each of the students' lives. The Jesuits are brilliant and humble people. But, Reverend Francis Wilkie, S.J., the chairman of the biology department, really became my mentor. I was concerned that medical school was too far away, but he practically demanded that I attend, and he was right. Fr. Wilkie believed in me and I'm grateful for the way he helped me pursue a future in medicine."
Most Recent Gift to Fairfield
$50,000 pledge to establish The Sal and Marilyn Santella Endowed Scholarship for the new Integrated Nursing and Health Studies Program. Dr. Sal intends to augment his scholarship with a bequest and is also a proud President's Circle member.  "This brand new INHSI program is really interesting and I'm happy to see that health literacy will touch all schools at Fairfield. The healthcare world is a booming field. Education does change the pattern of one's life and I feel so fortunate to have attended Fairfield. I've always hoped to be able to give back."
Also Supports
Fairfield Prep
Creighton University School of Medicine
Catholic Charities of The Diocese of Bridgeport