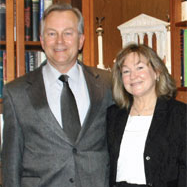 Profession
After graduating from Fairfield in 1975 with a B.A. in politics, followed by a law degree from Syracuse University in 1978, Jon served as a captain and criminal defense attorney in the U.S. Army's Judge Advocate General's Corps. After his service in the Army, Jon worked at a think tank in Washington, D.C., and then as a political appointee in the Reagan administration. In 1990, he started his own criminal law practice in Washington, D.C., which he maintains to this day.
"I have always enjoyed the challenges and excitement of practicing criminal law, especially jury trials. Every day is different, and being a solo practitioner allows me the freedom to decide how to best represent my clients. It also provides me with the flexibility to set my own schedule and to enjoy my family and to travel." Jon's wife Eleanor has worked in commercial real estate for over 25 years, managing office and retail properties. They live in Fairfax County, Va., with their two Golden Retrievers, Zeus and Kayla.
"Majoring in politics at Fairfield, with the department encouraging the free and open expression of ideas and differing views, helped prepare me for the experiences of representing clients charged with serious crimes, as well as my prior involvement with the politics of Capitol Hill."
Most Influential Fairfield Faculty
Dr. Daniel Felicetti, Politics Department Chairman 1971-1975
"He was instrumental in helping me get admitted into a very good law school by creating an environment in the Politics Department that encouraged vigorous and intellectually stimulating debate in the classroom."
First Gift to Fairfield
$40 in 1982
Largest Gift to Fairfield
Jon and Eleanor have made Fairfield the beneficiary of a portion of their estate.
Also Supports
Fairfield University Men's Rugby Club
Catholic Charities
Bishop's Lenten Appeal
Church of the Nativity, Burke, Va.
Syracuse University College of Law
ASPCA
Fairfax County Humane Society
Humane Society of the United States