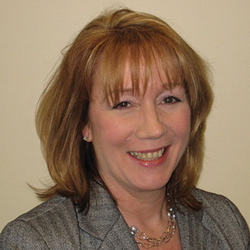 Professional Life
Although her degree was in management information systems (MIS), Susan Rudolph '89 has primarily worked in finance-related roles for most of her career — as an internal auditor, controller, finance business partner, and CFO.
Susan is currently senior vice president, Finance Higher Education at Pearson, a leading worldwide education company providing curriculum materials, multimedia learning tools, and testing programs from pre-school through higher education. Susan has worked at Pearson since 2009. Previous employment included Reader's Digest, Williams (Telecommunications and Oil/Gas), and SNET.
Susan earned her degree through Fairfield's Continuing Studies program. "I didn't have the on-campus experience," she said, "but really appreciated the flexibility that the Continuing Studies program provided, including four-week summer courses! My Fairfield MIS degree was essential to learn how data and information — especially financial information — are processed within a business."
Most Influential Fairfield Faculty
The late Dr. Robert L. DeMichiell, professor of information systems, was influential in helping her choose a major, but Susan also credits him with helping her to love learning. "MIS was his field and he loved it and he loved teaching, especially teaching the adult learner." Dr. Tracey Robert was Susan's guidance counselor at Fairfield. "I continue to connect with Tracey at inflection points in my career to help me think through my choices."
First Gift to Fairfield
$150 in 1990
Largest Gift to Fairfield
Susan has included Fairfield in her estate plan by naming the University a beneficiary in her will. Her bequest will augment the general scholarship endowment and establish the Susan Rudolph Endowed Scholarship Fund.
Also Supports
Connecticut Special Olympics
Dress for Success
Sandy Hook Promise
Life is Priceless (founded by Susan's nephew)
Statement
"I believe the Jesuit experience has kept me focused on giving back in my career, whether through mentoring colleagues, joining organizations that aid students in networking and finding opportunities post graduation, and in supporting not-for-profit organizations in achieving their goals.
I also believe it is the responsibility of every college graduate to support the institution that helped to make them the person they are today. Support comes in many forms. Financial contributions are important, but giving your time to key initiatives is also important. I've spent a few years on the Annual Fund Committee and it has allowed me to reconnect with what's going on at Fairfield.
I never would have thought that my career would bring me to the world's leading education company, but am excited that I can continue to influence the type of learning for future generations."