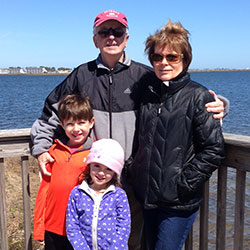 When applying for college, Fred DeMarco '66, a Massachusetts native, felt that Fairfield University was a natural fit. "I was aware of Jesuit education because my uncle graduated from Boston College and several friends attended Jesuit high schools. Once I decided to go to college out of state, Fairfield was the logical choice," he says.
After earning a degree in economics, Fred joined the U.S. Coast Guard. He then worked at several major companies, attended graduate school at Loyola University, purchased a home and started a family with his wife Kathy.
At age 32, Fred decided to follow his heart and start his own business, a company that provided temporary housing to business executives. He bought his first rental property in 1982, bought three more in 1983 and eventually grew the business to include 17 condos and townhomes.
Twenty years later, when Fred and Kathy's four children had finished college, they thought about retiring and selling the rental properties. Because the properties had grown significantly in value, Fred and Kathy knew they would owe substantial capital gains taxes if they were to sell.
Fred wanted to find a way to avoid these capital gains taxes and also create a legacy at Fairfield. After talking with Fairfield University's Planned Giving Office, Fred learned about a gift vehicle called a "charitable remainder unitrust."
A charitable remainder unitrust would allow Frank to (1) receive an immediate income tax deduction (2) avoid paying capital gains tax at the time his business properties were sold, (3) secure a steady stream of income for himself and Kathy and (4) make a substantial deferred gift to his beloved alma mater, Fairfield.
Fred was confident that this type of gift would suit him well. After consulting with his attorney, Fred created the charitable remainder unitrust. He transferred his rental properties into the trust and now he and Kathy are able to live quite comfortably on the income it generates.
"Overall, I am very happy with the way the charitable remainder trust is working," says Fred. "Setting up the trust was fairly easy and relatively inexpensive and, at the end of the trust's term, Fairfield will receive a very nice gift that will allow it to continue the good work that it does, providing great educations to young students. I also feel comfortable knowing that if I predecease Kathy, she will be taken care of thanks to the income generated by the trust."
Based on his own life experience, Fred offers this advice to recent graduates: "Find a career that you enjoy. It will be easier to achieve your goals if you are happy in your economic endeavors. If you do not find the right course immediately, be willing to try something new. Associate with positive thinking people and read books that demonstrate examples of success principles used by others."