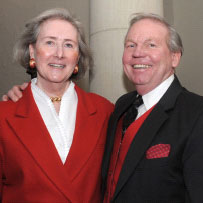 Profession
George Lawrence likes to say his profession is a "marriage of love"- his love of golf and painting. Lawrence's portraits and realistic paintings of fairways from around the globe have been exhibited in country clubs and galleries across the country, and in magazines such as House, The Met Golfer, and Golf Digest.
After earning a B.A. in English in 1969 and a M.A. in American Studies at Fairfield, Lawrence took a job at Metropolitan Life Insurance. "It took 14 years before I realized that the huge corporate world was not for me. And, although I had no idea at the time, my undergraduate experience at Fairfield was very effective in preparing me for my future business and social responsibilities."
He and his wife Maureen developed a fulltime venture renovating and reselling houses. The flexibility of the business gave him more time to paint. "I've always been drawing or otherwise involved in art ever since I was a kid," Lawrence says. His professional art career started in 1987 with a commission for a large mural from a friend. The requests grew through word-of-mouth, and eventually Lawrence was painting full-time.
Lawrence is currently the president of the Academy of Golf Art, a non-profit organization founded to create an awareness and appreciation for golf art. (The executive director is his former Fairfield golf teammate, Kevin O. Kammerer '69.) George and Maureen Lawrence are both Eucharistic Ministers at their parish, Immaculate Conception of Westhampton Beach, N.Y., where he also serves as chairman of the finance committee. He is a member of the Village Planning Board and the Westhampton Country Club board, where he is also chairman of the Admissions Committee.
George and Maureen Lawrence have known each other since grammar school in New York. Together, they have travelled to 84 countries, and last year they celebrated their 41st anniversary. "We are each other's best friend," he says. Their daughter, Julie, is a graduate of the Class of 2006.
Most Influential Fairfield Faculty
George credits the late Professor of Art Palko Lukacs for encouraging him in his art career. "I took every class I could from Lukacs. The Jesuit-in-residence, Father [William] Carr [professor of philosophy] was a friend, and I also really enjoyed the classes of Dr. Leo O'Connor, professor of American Studies."
First Gift to Fairfield
$45 in 1982
Most Recent Gift to Fairfield
George and Maureen Lawrence have made Fairfield the beneficiary of a percentage of the residue of their estate.
Also Supports
Little Flower Children's Services, Wading River, N.Y.
Immaculate Conception Parish, Westhampton Beach, N.Y.
Metropolitan Golf Association
The Metropolitan Museum of Art
Mount St. Mary College, Newburgh, N.Y.
Southampton Hospital