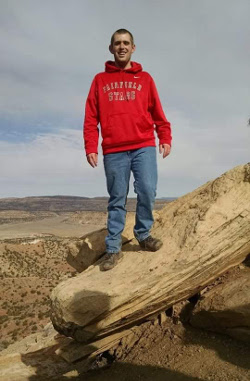 Andrew Danick '17, a Wallingford, Connecticut native, always wanted to attend a university with a strong sense of community, where professors really care about the success of their students. Fairfield has proven to be that place.
"You're not just another number in the classroom," he says of his experience so far. "The faculty has provided me with a safe haven to grow and learn, and has encouraged me every step of the way."
Andrew is able to attend Fairfield University thanks to an award he received from The Robert J. McCarthy Scholarship.
"I am honored that I was selected," he says. "I am grateful for the gifts and opportunities Fairfield has given me—all real blessings. I will always remember the support, life lessons, and friendships fostered at Fairfield."
The scholarship Andrew received was created by Helen E. McCarthy through a gift in her will, in honor of her son Robert J. McCarthy '59. Because the scholarship is endowed, it continues to grow in value each year even as it generates an annual award to a deserving student like Andrew.
Robert McCarthy '59, for whom the scholarship is named, says: "My parents, Leo and Helen McCarthy, realized the value of a Jesuit education. It has served me well over the years, in my career in education and through life. I am honored that they established a scholarship in my name."
In addition to his studies, Andrew is active in student life on campus. He belongs to several student organizations and has traveled with Campus Ministry on service trips around the country. He also holds an internship with The United Illuminating Company.
After graduation, Andrew hopes to attend graduate school and begin his career at an electrical engineering company such as Sikorsky, Ashcroft, or General Electric.