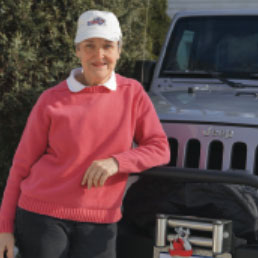 Bertha (Bert) Gallant '74 is a member of the first class of women to attend Fairfield University. Though she is now retired, she isn't slowing down anytime soon! She's busy preparing her Jeep Wrangler for off-roading, training for a CrossFit competition, and keeping in touch with her alma mater.
In addition to her annual gifts, Bert recently named Fairfield University as the sole beneficiary of one of her IRAs. Setting up this gift was as easy as completing a single form provided by her account administrator.
"I want to make sure that even after I'm gone, there will be a provision for Fairfield that will grow and support whatever its greatest needs are," Bert says. "Being there for the students is important to me."
In choosing to attend Fairfield, Bert fell in love with the sprawling New England campus and the welcoming people at the University.
She began her studies in mathematics but shifted to English after her mentor, professor Robert G. Emerick, encouraged her to volunteer at the Little Playhouse on campus.
After Fairfield, Bert found her way into finance. She took a position as a stock analyst, and later as a portfolio manager at People's United Bank.
"My Fairfield education helped me to understand people better, taught me to listen to what people have to say, and to take it all in," Bert says. "I am very happy with my Fairfield experience."