"I wanted to give back to Fairfield in a way that honors my late wife, Marcia A. Barris, an executive at Nasdaq OMX who died of breast cancer in 2007. For me, this gift was a way to celebrate her intellectual curiosity and achievements, as well as the tremendous value that Fairfield has and continues to bring to young lives."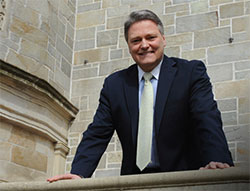 Profession
Joseph F. Walton '75 is senior vice president for Global Operations and Human Resources for EMC Corporation, one of the world's largest IT providers, with revenues of almost $22 billion in 2012. Walton's division, Global Enterprise Services, accounts for approximately half of EMC's workforce of 60,000 people worldwide.
Walton attended Fairfield on an academic scholarship as the son of a single mother, who was a teacher. As a student, in addition to pursuing academics, sports, and the University Glee Club, he worked as a construction worker, a driver of a Wells Fargo armored car, and ultimately a resident advisor.
"College experience can be so pivotal in one's future, and my years at Fairfield fulfilled that for me. I gained confidence and was challenged intellectually," Walton says. "At Fairfield I learned critical thinking and the process of discernment. I immersed myself for four years in what Fairfield had to offer — both academically and socially — and have benefited ever since."
After graduating with a degree in modern languages, Walton quickly rose in sales management at Burroughs Corp. and at Unisys, a technology services provider, where he ran the European division. His successful career has spanned sales, marketing, consulting, mergers and acquisitions, and talent acquisition globally. In 1999, Walton joined EMC, where he first led Global Services and initiated the company's joint venture with Accenture, and then went on to manage Human Resources and Operations within the company's information infrastructure business.
Most Influential Fairfield Faculty
"Thomas G. 'TG' O'Callaghan, S.J., was a tall and intimidating looking ex-BC hockey player who taught a course on prayer and spirituality. His rugged, external ferocity was balanced with a gentleness of the soul that was extraordinary; it really struck me! He embodied the Jesuit balance of faith and intellect — a gift that I have carried throughout my life."
First Gift to Fairfield
$25.00
Most Recent Gift to Fairfield
Joseph Walton has included a significant bequest to Fairfield in his estate plan. The Marcia A. Barris and Joseph F. Walton Endowed Scholarship Fund will provide substantial support to undergraduate students with demonstrated financial need, with priority given to those from the suburbs of Boston, New Haven, and New York City.
Also Supports
Mayo Clinic, Rochester, Minn.
Metropolitan Museum of Art, New York, N.Y.
Central Park Conservancy, New York, N.Y.
Notre Dame High School, West Haven, Conn.