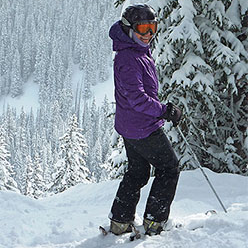 Michele Rae '74 describes herself as "an outdoor enthusiast and aging athlete", which is certainly an understatement. She and her husband, Dan Swinehart, have gone scuba diving in the Great Barrier Reef, the Coral Sea, Belize, Fiji, Mexico, Hawaii and all around the Caribbean. They have also hiked on five continents. Michele enjoys cycling, and especially the challenge of climbing hills. In 2010, she trained for and completed "The Death Ride" (aka "The Tour of the California Alps") — 126 miles, with 15,000 feet of climbing over five mountain passes.
An avid skier, Michele was president of the Fairfield University Ski Club in her junior and senior years. She and her husband ski 35 days a year, mostly in Beaver Creek, Colorado, where they have a second home. "One of these years, maybe after I retire, we'll spend our summer in Chile, skiing!" she says.
Michele is a member of the very first class of women to attend Fairfield University. Their first semester, all of the women were housed on the first and second floors of Loyola Hall. "There were about 125 women in my class," Michele recalls. "I think the biggest adjustment was for the upperclassmen who were used to an all-male environment!"
When her mother dropped her off in the fall of 1970, she told Michele that these would be the best years of her life. "She was right, as usual," says Michele. "What she didn't say — but I suspect she knew when she encouraged me to attend a Jesuit school — was how it would affect the rest of my life."
Retrospectively, Michele believes that her experience as a member of the first class of women helped prepare her for an executive career in international manufacturing operations, which has very few women in leadership positions.
"Jesuit education taught me to think within a moral, ethical framework," Michele says. "Throughout my career, this has influenced how I conduct myself and do business, as well as my selection of companies. At the time, during my college experience, I just thought, 'Yeah, this is what college is.' I didn't realize until much later how special my Fairfield Jesuit education was."
To show her appreciation for her Fairfield education, Michele makes annual contributions to the Fairfield Fund. She and Dan are longtime members of the President's Circle. They are also members of the Bellarmine Society, because they have included a gift to Fairfield in their wills.
As to why she and Dan chose to include Fairfield in their estate plans, Michele says, "My Fairfield education is a cornerstone of the foundation on which my accomplishments have been built. In appreciation, we want to give back to the University, beyond our annual fund contributions."
The gift that Michele and Dan have left in their wills allows them to do just that. Their future gift will ensure that their support continues even after their lifetimes. It will benefit many generations of future Fairfield University students who will go out and make the world a better place, just as Michele has done.